Warning
: file_get_contents(): php_network_getaddresses: getaddrinfo failed: Name or service not known in
/home/melgirl/public_html/wp-content/plugins/digg-digg/include/dd-class.php
on line
1726
Warning
: file_get_contents(http://feeds.delicious.com/v2/json/urlinfo/data?url=http%3A%2F%2Fmelbourniangirl.com%2Fbare-with-bare-with-its-what-i-call-being-fixed-soon%2F): failed to open stream: php_network_getaddresses: getaddrinfo failed: Name or service not known in
/home/melgirl/public_html/wp-content/plugins/digg-digg/include/dd-class.php
on line
1726
Now this title will make no sense (or just sound odd) to those of you who have yet to discover the brilliant BBC UK Series "Miranda" with Miranda Hart.
It's one of those shows that people love or hate and rarely fall in between. Series two just finished showing on ABC1 a few weeks ago and I jumped on Amazon and promptly and the had first series sent across.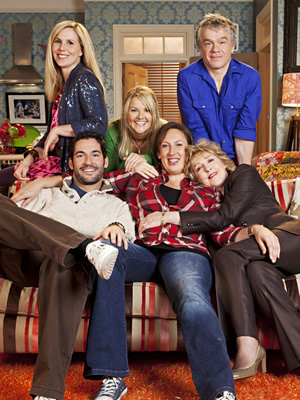 The show is packed with joyus cliches and features a mid thirties woman dealing with family (a mother who's favorite lines seem to be "such fun" and likes to use the phases "what I call" even though we all call it the same), friends (from a pint size Heather Small fan to a sweep of old boarding school chums who anytime they receive a text utter "bear with" incessantly until they have finished responding), boys and the joys/horrors of dating and unique ways to have fun when you live alone (conductor of classical music to face drawn eggs, Poirot and chocolate, turning the hand held shower head on and letting it loose like a sprinkler, dressing up as Wally(Waldo) and playing "Where's Miranda" in public locations).
As you can see I really love it- I find it tickles my funny bone and find my self laughing out loud (rare for me while watching tv) not only during the joke but three, ten and days later as it sinks back in.
So my actual point is that the webpage (melbourniangirl.com, a blog about Melbourne) is in the process of being spring cleaned and should be up looking fresh and new very soon.
Oh and Happy Cupcake Week! The cupcakes will also continue in what I call "shortly".
Related posts: