Warning
: file_get_contents(): php_network_getaddresses: getaddrinfo failed: Name or service not known in
/home/melgirl/public_html/wp-content/plugins/digg-digg/include/dd-class.php
on line
1726
Warning
: file_get_contents(http://feeds.delicious.com/v2/json/urlinfo/data?url=http%3A%2F%2Fmelbourniangirl.com%2Flook-up-paton-building%2F): failed to open stream: php_network_getaddresses: getaddrinfo failed: Name or service not known in
/home/melgirl/public_html/wp-content/plugins/digg-digg/include/dd-class.php
on line
1726
The Paton Building is one of those buildings that looks sweetly squished between two larger buildings as it sits patiently on Elizabeth St.
I actually hadn't intended to include this building as a solo feature in this set of posts (I just snapped the pics while photographing The City of Melbounre Building across the road (the one that houses my imaginary apartment and lifestyle) – read the post before you write that sentence off as crazy. Then you are free to call it as crazy as you like.)
The Paton Building (I love the way so many of the buildings have "Building" in their name on the actual…well building in case we perhaps missed that fact?) really caught my interest when out of curiosity I googled it. It is obviously (well supposedly) art nouveau in its ornamentation and was designed by a prominent Melbourne Architect, Nauhum Barnet in 1905. Barnet seems to have designed prominent buildings all over Melbourne and one writer (Selby) goes so far as to claim that Barnet had designed a building in every street in Melbourne proper!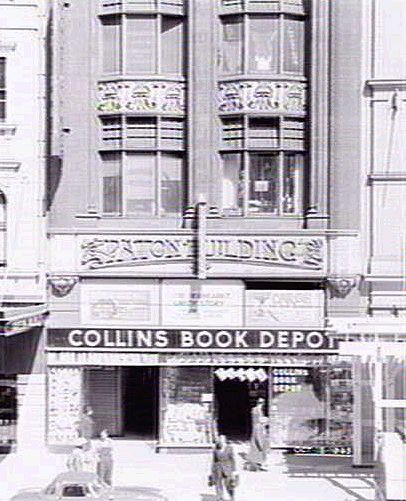 I love to imagine our city the way a turn of the century (and not the one I celebrated at the beach in 2000) architect saw Melbourne and the opportunities to enhance and decorate our streets. I have a small obsession (yes, yes…one of many) in looking at Old photos of Melbourne and how it used to look. I like to imagine the people who lived here and how it has changed over time, and in fact before me every day. I hope we don't go too far in our quest for glass facades and convenient office spaces as we have such beautiful buildings and we seem to lose more and more each year.
I took the following excerpt from the National Trust website;
Statement of Cultural Heritage Significance:
CITATION The Paton Building at 115-117 Elizabeth Street, Melbourne, a six storey load bearing brick office building with ground floor shops and basement, was erected in 1905 for the Paton Trustees. Innovative Melbourne architect Nahum Barnet designed the narrow building and facade, intergrating romanesque derived elongated brick arcades surmounted by a colonaded parapet with oriel windows recessed in the arches and enhanced with art nouveau derived ornamentation. The Paton Building is an important work of Nahum Barnet, a noted early 20th century Melbourne architect whose office was located (1906-24) on the top floor of this structure. The art nouveau ornamentation, motifs and graphics were the result of contemporary developments in Great Britian and until Barnet adopted this style were rarely in evidence in Melbourne. The title Paton Building is in striking art nouveau graphics and epitomises the reformist role of Barnet in architectural design. The Paton Building has been completely altered at ground level but the upper facade remains intact with the contrasting materials, although subdued by city grime still readily perceived. The interior has been mostly refitted. Of State s ignificance.
This is the third post in my Melbounre "look up" series about how stunning our architecture is if we look past the generic ground floor store fronts that can sometimes make me forget what sits just above.
Post One – Buckley & Nunn Building
Post Two – The City of Melbourne Building 
Post Three – Paton Building (this post)
Related posts: