Warning
: file_get_contents(): php_network_getaddresses: getaddrinfo failed: Name or service not known in
/home/melgirl/public_html/wp-content/plugins/digg-digg/include/dd-class.php
on line
1726
Warning
: file_get_contents(http://feeds.delicious.com/v2/json/urlinfo/data?url=http%3A%2F%2Fmelbourniangirl.com%2Ftea-at-the-plaza%2F): failed to open stream: php_network_getaddresses: getaddrinfo failed: Name or service not known in
/home/melgirl/public_html/wp-content/plugins/digg-digg/include/dd-class.php
on line
1726
I have always wanted to take tea at the Plaza. Think old world glamour resting on the edged of Central Park and Fifth Ave.
It is here the cheeky Eloise ran the halls and Big married Natasha think Funny Girl, Sleepless in Seattle and Home Alone 2. This place is timeless, elegant and finally I had the opportunity to go.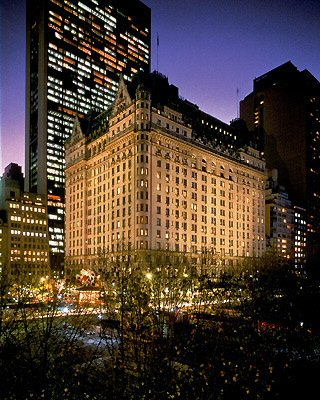 One of my favorite discoveries in leaving my back packing years behind has been that instead of grabbing my water to sip as I walk along the street for a few more (and in some instances a lot more) dollars I can instead relax in a world class hotel sipping hot tea or a sparkling water ensconced in a truly comfortable chair and hopefully listening to a harp or piano in the background.
In other words bliss. When I lived in NYC the plaza was undergoing a complete overhaul and was closed for my entire time there so I was thrilled that on this visit it was open again to the general public. I walked up the stairs into the stunning lobby smiling and nodding, happily pretending this is where I was staying. I peered into the amazing Palm Court and sighed, one day I will take high tea here.
But for that day, having wandered Manhattan for hours and hands sore from carting about all my shopping (yes, poor moi!), I settled into the lobby bar in a pair of high backed chairs and ordered Peppermint Tea.
I read, I people watched, I read some more, sipped my lovely tea and people watched again.
Couples came in holding hands, groups of women laden with shopping poured past and business meetings took place. It is a perfect hide away from the hustle and bustle of the busy magnificent and busy city.
Related posts: