Warning
: file_get_contents(): php_network_getaddresses: getaddrinfo failed: Name or service not known in
/home/melgirl/public_html/wp-content/plugins/digg-digg/include/dd-class.php
on line
1726
Warning
: file_get_contents(http://feeds.delicious.com/v2/json/urlinfo/data?url=http%3A%2F%2Fmelbourniangirl.com%2Fwhat-to-pack-for-a-long-haul-flight%2F): failed to open stream: php_network_getaddresses: getaddrinfo failed: Name or service not known in
/home/melgirl/public_html/wp-content/plugins/digg-digg/include/dd-class.php
on line
1726
What do you like to pack for a long haul flight?
Is there anything you think I have missed thats on your essentials list?
- One sleep to go-
My carry on Bag for Long haul flight has to contain the essentials (NC Earphones, eye mask, scarf/pashmina, music player, books, magazine, empty water bottle and cosmetics bag). If it could contain a flat bed, doona and giant snuggely pillow even better! Oh, and a shower!
Everyone is different but here is my list of must have items when I fly;
Noise Cancelling Earphones – I recently splurged on a pair of Bose Quite Comfort 15 after doing a trial at a Bose Store on La Trobe in Melbourne – AMAH-zing! They get you to stand in front of this TV and watch a mini movie. About half way through you are told to remove the headphones and whoa – a speaker above your head is blasting this airplane-ish noise at you and I had no idea. I also borrowed a pair and took them out on the street and again really pleased. They are definitely waayyy at the top end of the price scale but I managed to order mine online from Amazon and even with shipping they were about $200 less than purchasing here. There are lots of brands out there and I travelled with a Sony pair for years which were fine. I would recommend thinking about how much you travel and then deciding on a budget and just getting the pair that best hits your price point. I certainly find that flights for me with noise cancelling headphones seem to make the flight easier and I often feel less jet lagged comparatively.
Eye Mask – I picked up a cute one at Peter Alexander last year and love it. It's soft and cool on my face, blocks out all the light (the thicker than normal elastic helps here) and is pretty to boot. When long haul flying even if you don't manage to sleep (I find I rarely do) it's really great to slip an eye mask on, add my noise cancelling ear phones and listen to soft soothing music or an audio book. It gives your body and brain a chance to rest and helps you feel more refreshed on arrival. My personal recommendation is to find one that's a silk/sateen fabric as I find the flock (fake suede) or plastic ones can make my eye area too warm. I also love having thicker ties/elastic to ensure full block out and prefer it to not be too tight or have a ribbon system that ties at the back of my head.
Scarf/Pashmina- Why do they always make planes so cold when they want you to sleep? There is nothing cuddly and cosy about a chilled nose or frozen fingers. A scarf is a great tool taking you from neck warmer to blanket to rolled up pillow as required. I often sneak in two – a silky one for my neck and a woollen (cashmere for those who can darling) one to turn into a blanket or shawl if I get chilled.
Music Player – whatever your style the plane systems often have a great selection but sometimes it's just nicer to have your own choice. I usually make sure I have an audio book downloaded, some soothing music I know by heart and a new album I have been hoping to listen to. I also love podcasts when I am flying – Hamish & Andy are a fav of mine – they only catch being that people look at me oddly as I giggle and snicker away. If you have a long flight don't forget a back up battery or recharge cable with international adaptor (many airports you can find a stray power outlet). Nothing worse than only having enough music for a part of your flight.
Books – I am really excited as this is the first long haul flight I can take my kindle on. I am normally weighed down with 2-3 thick books for my flight and am thrilled this time I can take a couple of hundred with me. I will also have the option of adding more at each of my stopovers – awesome! I usually ensure I have with me a book I loved reading a few years ago and haven't re-read since, a fast paced gripping novel (this flight I am going to dip my toe into the Dystopian genre that seems to be taking off) and something light hearted and fun. I know some people like to read serious books but for me it just doesn't work on a long flight.
Socks and Shoes – I nearly always travel with a pair of woolly loose socks for walking about the plane in and keeping my tootsies warm and a pair of slip on shoes for airports (easier for scans) and running to the plane bathroom in (No way am I going in there just in socks!).
Magazine – On all flights there is a time when there will be no tv, no music and nothing to do. I love a magazine for this (although a real book would also work). I usually tend to pick up a copy of Empire (movies), The Economist (always really interesting and packed with bite size grabs) or Frankie (a Melb magazine that is always a good read).
Empty water bottle – While too often I have had a full bottle taken off me I am always allowed to take an empty one in with me. I find this better for all my rehydration needs than trying to grab a glass of water (and during the lights out portion of a flight – its really hard to get someone). I usually grab a bottle with the squirt lid to minimise the likelihood of me spilling and a filter. I would recommend the sort of disposable/ affordable ones in case they do take it off you. I just remember to empty it at each stop over so when I re board there are no issues.
Cosmetics bag – (moisturiser, chewing gum, relax balm, deodorant, toothpaste/brush, face mask. Pore mask)
Moisturiser – I usually bring both face and hands/body and top up, top up, top up. I am going to take my LaClinica sensitive night moisturizer and the LaClina Rose Hip oil as both are so rich and moisturizing they will do a great job of protecting my skin! I am also taking my LaClinica rose hip body butter – am a total rose hip convert!
Facial Wipes – I love these when flying as a quick way to spruce up and refresh. I also sometimes rinse them with a bit of water and pop one over my face to breathe in a little moisture.
Make Up – it's nice to look less than horrid (isn't it always?) when getting off a long flight so I normally have a face powder, some blush (can be used as eyeshadow) and a lip gloss to apply at the other end. (these will be in my handbag)
Chewing Gum/ Boiled Sweets – I pop a zip lock bag with a few in it for takeoff and landing.
Relax balm – a tub of Badger Balm Relax is a favourite to help me chill out on my flight.
Deodorant – ahhh please please please. But not perfume – there is nothing worse than having to sit to someone who is overly fragranced on a plane and often even the perfumes we like can give us a headache at altitude!
Toothpaste and Brush – it's amazing how quickly a quick (or long) brush can make you feel better. I like the co gate wisps for portability when flying.
Tricks of the trade –I used to travel internationally a lot and one of my two favourite girly discoveries was the Great Mystery Mask from Philosophy. I pop it in a lil travel container and then smear it on for a minute in the bathroom and it revitalizes my skin.
Now my slightly icky – but totally cool discover. You know those nose pore masks? They are GREAT on a flight. I usually use one during "lights out" and wow!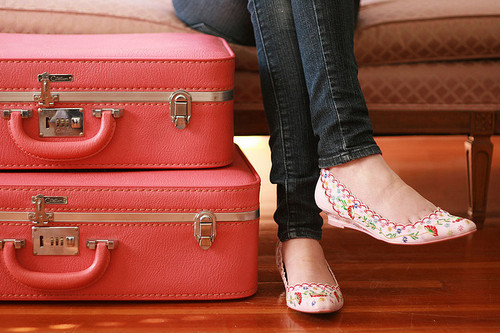 Melbournian Girl Abroad
Preparing for a long haul flight
What to pack for a long haul flight
Related posts: